DIY: Make a roller
YES! There it is, your starter kit with your first essential oils! You must have heard or read a lot about essential oils and have finally taken the step to purchase your first oils. For me, my severe hay fever was the reason to start using oils and I now use them for many different purposes. So there is probably also a certain reason for you why you started your search and ended up with essential oils.
As you may already know, you can use essential oils in several ways:
Aromatically, for example via a diffuser or a lava stone

Through the skin (topically), for example using a roller

By intake*, for example in combination with water or via a capsule
On this page I focus on the topical application, the use of oils on your skin and then specifically for making a roller. What do you need?
​carrier oil
It is important that you dilute your essential oil. How much you dilute depends on, among other things, age and sensitivity**. You can dilute an essential oil by using a carrier oil. The most common (carrier) oils are:
Or, for example, use the fractionated coconut oil / MCT oil as a base and add another (carrier) oil, such as:
Prickly pear oil , for example in making facial care products
Castor oil , a fine addition to making hair products, such as eyebrow serum or beard oil
Vitamin E oil , for extra support for scars, stretch marks and signs of skin aging
The dōTERRA brand sells its own carrier oil (fractionated coconut oil) and Young Living also has its own product, namely the V6 oil. This V6 oil is a combination of coconut oil, almond oil, grapeseed oil, olive oil, sesame oil, wheat germ oil and sunflower seed oil.
ROLLERS
You may have already looked around in the webshop and you will find a wide range of rollers. You can go for very outspoken and colorful, but there are also many products in a more natural (bamboo) style. There is something for every style and taste in the webshop.
Looking at the rollers, you can roughly divide them into large rollers (10 ml) and small rollers (5 ml) . If you're new to using essential oils, I'd recommend starting with a few 5ml roll-ons. This way you can first try things out and test them and experience what it does for you. If you like your roller and use it regularly, you can make a larger version.
TO WORK!
Now how do you make a roller? Choose one or more essential oil(s) that you want to make into a roller. Depending on, among other things, age and sensitivity**, you determine the number of drops of essential oil you want to use in your blend.
Open your roller

Put the drops of essential oil in the roller

Add the carrier oil to the roller

Put the roller top on the roller and close with the cap

Just shake and your roller is ready for use!
💡 TIP! Do you want to make a roller with different essential oils? First make half of your recipe, so that you can adjust the blend to your own liking. Are you completely satisfied? Top up the blend and finish your roller.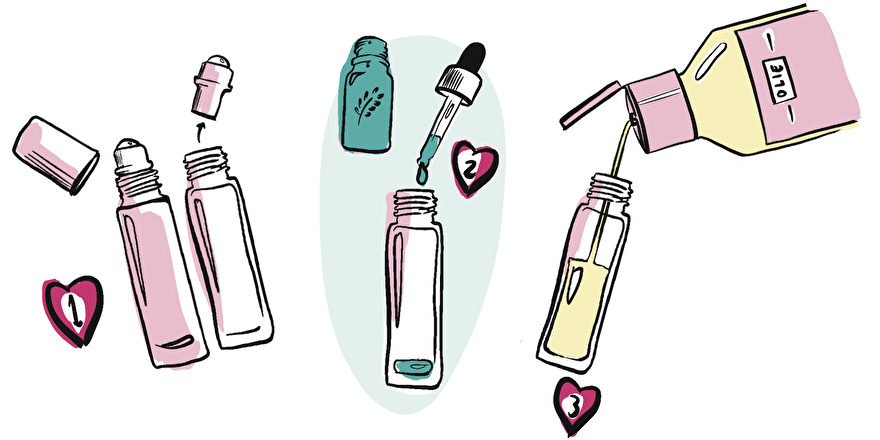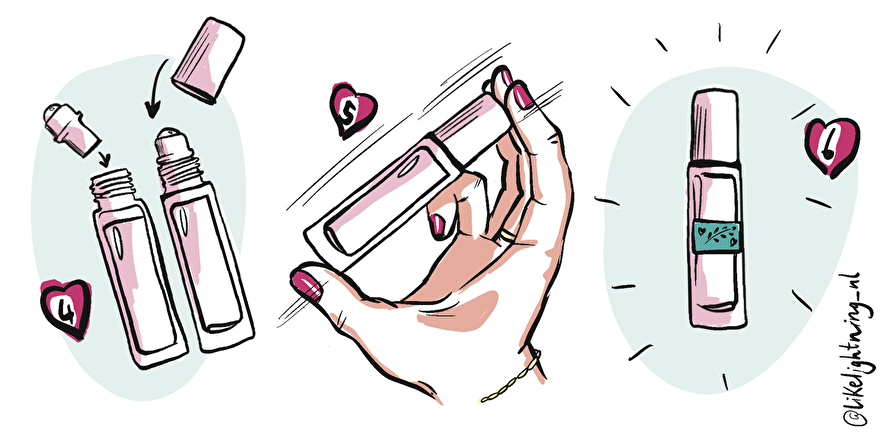 _____
Disclaimer:
* It is very important that you use 100% pure essential oils and that you are well informed about which oils you can take responsibly and which oils you cannot take.
** There is a potential interaction between medications and essential oils, including a potentiation of drug side effects. Consult your doctor if you have any questions about incorporating essential oils into your daily routine. Pay particular attention to a (possible) pregnancy and when using blood thinners, which essential oil is safe to use. Special guidelines also apply to children. Consult a qualified physician for this.
This information has been compiled with the utmost care. The information is not intended to diagnose, treat, cure and prevent diseases, or to replace medical advice from professional doctors and medicines. Anyone suffering from any illness or injury should consult a qualified physician.
_____